Google is a great service. It allows me to do many things. Mail, Personalized Page, Talk, Search Engine, Calendar, Docs/Spreadsheets, Bookmark, Photo sharing, and Reader.I do all of those services. Once I sign in Google, I don't have to log in every service I use. It is less hassle. What can I say about it ? It is WONDERFUL.
What Google does keep amazing me. Google is doing new many things. First, Google Search Engine. It was a wildly popular search engine of all the time! Then Gmail. I had been longed waiting for the Gmail signup. Thanks to one guy who invited me for Gmail private sign up. At first, I did not like it. Of course, it is very different. I stayed with Yahoo for a long time. Until I learned that Gmail can do Chat feature. I was like wow.
So I try Gmail again. The chat feature is okay. It was limited. I use Google Talk application for a short time. But I did use the Chat feature a lot with one friend of mine, who is a Google fan as I am, whenever I am using Gmail to check emails.
Of course Google keep improving the Gmail Beta constantly. I start to enjoy Gmail more and more. I am very pleasant with the Gmail's constant improvement. At that time, Gmail is only by invitation. I did not have a lot of friends using Gmail or Gmail chat. It is fairly new. Last year, Gmail has grown to 10 millions users in US alone, comparing to Yahoo, with 60 millions users in US alone. (I cannot find the link for that statistic — and I was not sure if that statistic for Mail or IM. That is my vague answer.) I know that Yahoo has a higher number of users.
When Yahoo came with a new Beta, I decided to try that, and turned out that I did not like it. Yahoo Beta is very slow. Hey, Gmail is still in a beta. Gmail did a better job. Yahoo has a long way to go. Now Yahoo has a IM intergration, which I did not try. I have not used Yahoo Mail Beta in a while. Maybe, I won't be qualified for their IM integration beta for a while. However, I did like the Yahoo Beta's RSS feeds. I said I wish that Gmail had one as well. It would be a fucntional and wholesome email service!
Until later, Gmail added RSS feed, however, it is called Web Clip where you would see it above the buttons where says Archive, Report Spam and Delete. I did not like Web Clip. But Google offers the feed reader, which is very nice. I used Google Reader for a while, but at that time, I was disappointed that they do not show YouTube and Google Videos. I use another feed reader called Newshutch, then changed to GoBits. Again, like I said Google still amazes me. They fix the problem. Now Google Reader can view videos from YouTube and Google Videos. I am very pleasant, so I immediately came back to it again. Ever since then I am reading all feeds in one place. I am caught up with them, but some sites are going too fast and post many entries in one day. I had to catch up constantly, which is not easy! I have about 30 sites—with about 50 to 70 entries daily. But sometimes it goes over 100, when I did not read them for one day or two. Once, it would go over 300. Urgh. Hard to get caught up with it. Now, there is called Greasemonkey which I mentioned before a while ago here on my blog. It is a great extension. I added the Gmail/Reader integration in Gmail. It is nice. I love it. Now I can read email, read RSS and chat on one window!
Not long ago, I read somewhere said that the technology will have new information every 72 hours sometimes in 2020. I have to be ready and keep up with thousands of new information. I am glad that the Feed Reader is invented; otherwise, we would be truly LOST! Too many sites to read each. That is the reason why we have Feed Reader, so we can read all entries in one place, unless you want to see an actual website (only if it is necessary). Most of the time, texts, picture and videos are well-enough to get information for quick reading. The websites are usually designed to make them look good, like I do sometimes with my blog deign look. Heh.
Anyway, I will go on forever about Google's great services, which I have not mentioned Calendar and Docs and Spreadsheets, but lets cut the chase here because I want to mention about a new and wonderful sidebar! It is called Google Talk Gadget Sidebar. It is only for Firefox. If you wonder what does it do, what does it look? You can see it below: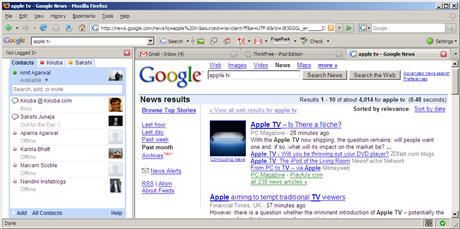 You see that now. You probably would understand why it is so wonderful. Sometimes, when I am on Gmail, and chat with a friend. But I want to surf while I am waiting on someone to reply back. Sometimes, I forgot that I was talking to someone there. I had to come back and saw messages, like saying "hello? hello?" or "are you there?" or sometimes he or she would sign off after a long wait for me to reply back. It does notifies on the tab, but it is not easily to be recognized. It is not like IM-flash like on the taskbar on any other IM programs outside the browser. Well, I gotta to thank Google for a wonderful gadget that you can add it on your Google personalized homepage or blogger, which I already have it in my personalized homepage and blogger. You are no longer required to be tied with Gmail Chat feature.
Not long ago, they created a Google Talk Sidebar for Firefox, by adding the bookmark and check it as a sidebar which allows you to open the Google Talk bookmark to the sidebar on the left as you see above on the image. Now, I wouljd never miss any IMs. I can easily see if someone ims me, so i can reply back quickly. I can surf and chat at the same time without delays or waiting! No more back and forth on tabs to check Gmail chats. You can go to the link where you can get a instruction how to add an specific url to be added in Firefox Bookmark here.
Enjoy surfing and use Google Talk at the same time!

Powered by ScribeFire.