I saw those ads on Metro's subway for some time… It is sad to see the Appalachian mountain destroyed…the ads are by stopmountaintopremoval.org. They remove mountantop to build new coal mines, new roads (like highways), and land for more projects and developments. The removal mining usually happens in West Virginia, Eastern Kentucky, Virginia, and Eastern Tennessee.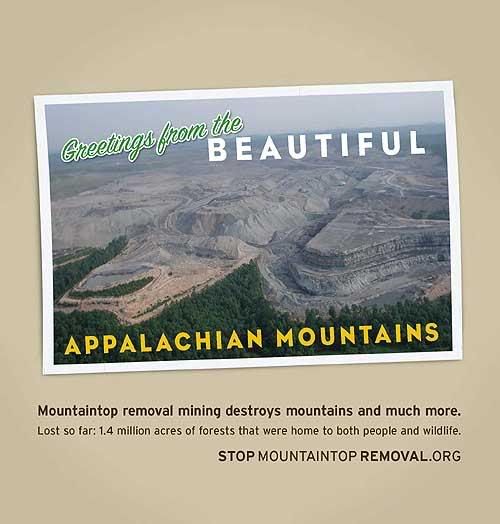 The coal mine company did ask my dad if they would want to buy his land… Our backyard of the house is the mountain and beyond. But my dad did not sell to them. That land has been passing for two generations for more than 80 years. My great-grandparents lived that land, too. We have a very rich soil, that we used about 40 feet by 40 feet vegetable garden but now about 7 feet by 5 feet. That is my best estimation. It is not a big garden but it is enough to survive through the winter. With that garden (40 by 40), my parents cannot do the job alone. It takes a family to do the job. When I grow up, my brother and I helped them the job. We used to have a lot of corns and potatoes every year. We had 30 to 40 jars of green beans and pickles. We have some onions, cabbages, lettuces, carrots and different of beans. But now we probably have 40 to 60 corns, 10 to 20 jars of each. They still do them every summer and store during the winter.
Note: After a careful consideration, I realized that it is not 40 feet by 40 feet because most master bedrooms are usually between 12 to 20 feet long… and in that case, it doubles that size; I realize that is not that what we had. It is definitely more than 40 feet.  Honestly, I never am good at measurement. I thought it is best to ask my dad for accurate information. I will post when I find out.
I am glad that he did not sell it to them. The beautify of land and mountain of ours would probably end up ugly like this (maybe not big like this, but the coal mining company can do much damage):
I know that my uncle did sell his house and land to one company, so they can build a new highway to somewhere else. I am not sure where it is going. It is sad. I used to grow up that area when I was young. I never did not want to move … but my dad wants to be close to his parents and great grandparents. Oh well… I am not sure what is the update of the highway project. I will have to ask my dad about it.
I knew that Pikeville did the same thing to make a new highway and 390 acre of land for the expansion and development. It took 14 years to complete the project. It finished in 1987. It called Cut-Thru. That project is the hemisphere's largest engineering and earth-moving achievements, second only to the Panama Canal. But it turned out not bad, not like the picture above. I mentioned that once on my blog here.
Back to mountaintop removal, I hope they will come to realize how much damage they have done to the families, neighborhoods, schools, and importantly the wildlife animals. It can create more threatening crisises, like landslides, floods, and poisoned water supplies. It has to stop because it hurts me so much. I feel for them. I grow up in the Appalachian mountains. I have a mountain soul in me.
Blogged with Flock